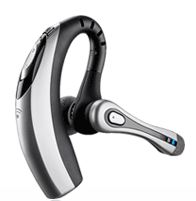 At work, I just got a Treo 650. Given that the form-factor of the Treo is not at all ideal for telephone use, a headset is a necessity. The standard (rather, sub-standard) "bud" headset that comes with the unit is every bit as crappy as one might expect it to be.
On the other hand, the Plantronics Voyager 510 that Vassar got me to go with it positively rules. I don't know exactly what its weight is, but I know that I wore it to work this morning, and then started messing around rewiring in the crawl-space behind three racks. Two hours later, I was done cabling, and only then did I remember I'd been wearing the headset the entire time. It's light enough that I'd simply forgotten it was even there, which (in my opinion) is an ideal situation.
I've always been a fan of Plantronics, ever since my days working in a GTE call center, when I had a choice between a Plantronics unit and (ack!) a Hello-Direct model. Plantronics has never done me wrong, and near as I can tell, this Bluetooth model is no exception.